Mariah Carey's Engagement Ring Is Really Big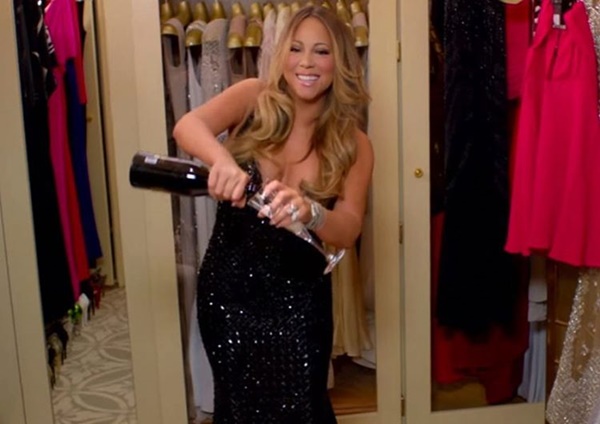 A Mariah Carey engagement ring photo has gone viral and the media has been spending a lot of time covering her relationship with Australian billionaire James Packer. The legendary diva, 45, and her 47-year-old fiancé announced a big development in their relationship last week. Packer popped the question in New York City on January 21.
According to reports, Carey's 35-carat diamond engagement ring is worth close to $10 million, and recently the music star joked about it being too heavy for her arm. The "You're Mine" singer, who is currently promoting her "The Sweet Sweet Fantasy Tour," told E!:
"It's so heavy I can't lift my arm up! No…It's a nice chunk."
Carey is willing to talk about the ring and how romantic Packer is, but she thinks it is too soon for details about her wedding dress and the date of the big ceremony. The mother of two explained:
"I am very excited about the dress, but I don't want to talk about it yet, as I have to have my first fitting."
Carey, who was previously married to music executive Tommy Mottola and TV personality Nick Cannon, wants to keep things simple this time around. When it comes to the big day, Carey and Packer are going for beautiful and simple. The "Touch My Body" artist shared:
"We are not doing a big wedding because he did two big weddings, and it's kind of like, 'I've done a big wedding [too]'… We would rather make it beautiful but humble."
Insiders claim that the couple is in love and has a lot of chemistry. The pair made their red carpet debut following the engagement news on Thursday at the G'Day USA Gala in Los Angeles.
What do you think of the James Packer and Mariah Carey engagement?
Category: Entertainment