Will Forte Half-Shaved Beard And Head Photos Go Viral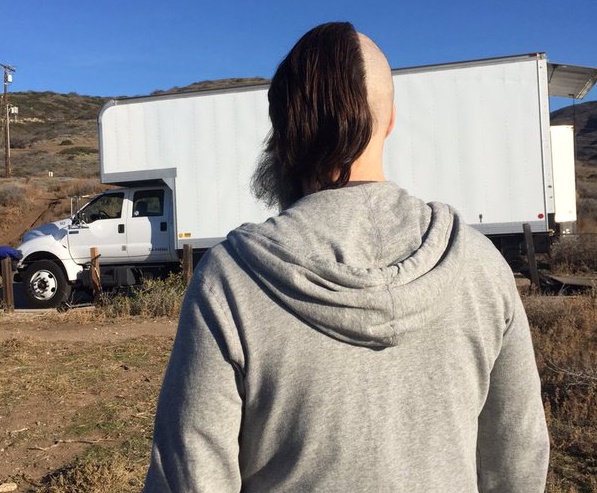 Will Forte shaved his beard, head, and eyebrow and photos taken at a recent gala in California are making waves on the Internet and probably in space too.
Maybe it was a bet, or he really angered his barber, but over the weekend, Forte showed up at Fox's 2016 Winter TCA Tour All-Star Party at the Langham Hotel in Pasadena with one of the strangest haircuts the world has ever seen.
Mr. Forte was sporting a half-shaved beard, half-shaved head, and completing the look, a half-shaved mustache. Forte's Last Man On Earth co-star Mel Rodriguez was also at the event, and he too was walking around with a half-shaved head and face.
Reporters at the event bombarded Tandy, aka Forte, and Todd/Mel with questions about their unusual looks, but the duo stayed mum. At the party, Forte also posed for photos with co-star and ex-girlfriend, January Jones, Cleopatra Coleman, who plays Erica, Mary Steenburgen (Gail), and Kristen Schaal, who has the role of Carol.
The writers of The Last Man On Earth have posted lots of photos of Will Forte's shaved beard, head, and eyebrow without saying much other than the fact that they are funny. One Tweet read:
Doesn't get any easier to look at. #LastManOnEarth comes back March 2016! @OrvilleIV @LastManFOX Will Forte Debuts Half-Shaved Face at FOX All-Star Party and It Is Seriously Insane.
Here are few theories on Forte's half-shaved head – the other Phil Miller played by Boris Kodjoe died, and that is his way of paying homage. Tandy lost a bet with a member of the group and had to shave half of his head and face.
What do you think of Will Forte's shaved beard?
Will Forte and Mel Rodriguez rocked interesting new hair cuts last night: https://t.co/x4qOHp9eCv pic.twitter.com/p23fElyXIx

— E! Online (@eonline) January 16, 2016
Your worst haircut has nothing on Will Forte's new look https://t.co/FKX1apSYDw pic.twitter.com/g9cfqJtPFF

— GQ Style (@GQStyle) January 17, 2016
See more of @OrvilleIV's half beard tn at the @CriticsChoice 5p/8e on @AETV #LastManOnEarth #CriticsChoice pic.twitter.com/7mMhdlxNXt

— Last Man Writers (@LastManWriters) January 17, 2016
At least half is still there. #brightside #LastManOnEarth @_MelRodriguez_ pic.twitter.com/gVLBszCRHq

— Last Man Writers (@LastManWriters) January 17, 2016
Doesn't get any easier to look at. #LastManOnEarth comes back March 2016! @OrvilleIV @LastManFOX pic.twitter.com/95LCPxC4yw

— Last Man Writers (@LastManWriters) January 16, 2016
5 minutes until a new #LastManOnEarth –the guy below knows that but others might not so please spread the word! pic.twitter.com/x4J9z37CjH

— Will Forte (@OrvilleIV) November 9, 2015
A little surprise guest perhaps? pic.twitter.com/Uldqn6d4q8

— Will Forte (@OrvilleIV) October 29, 2015
New #LastManOnEarth tonight! Please spread the word, my friends! What are you doing still reading this? Go spread! pic.twitter.com/py2t6GEInq

— Will Forte (@OrvilleIV) November 16, 2015
Category: Entertainment